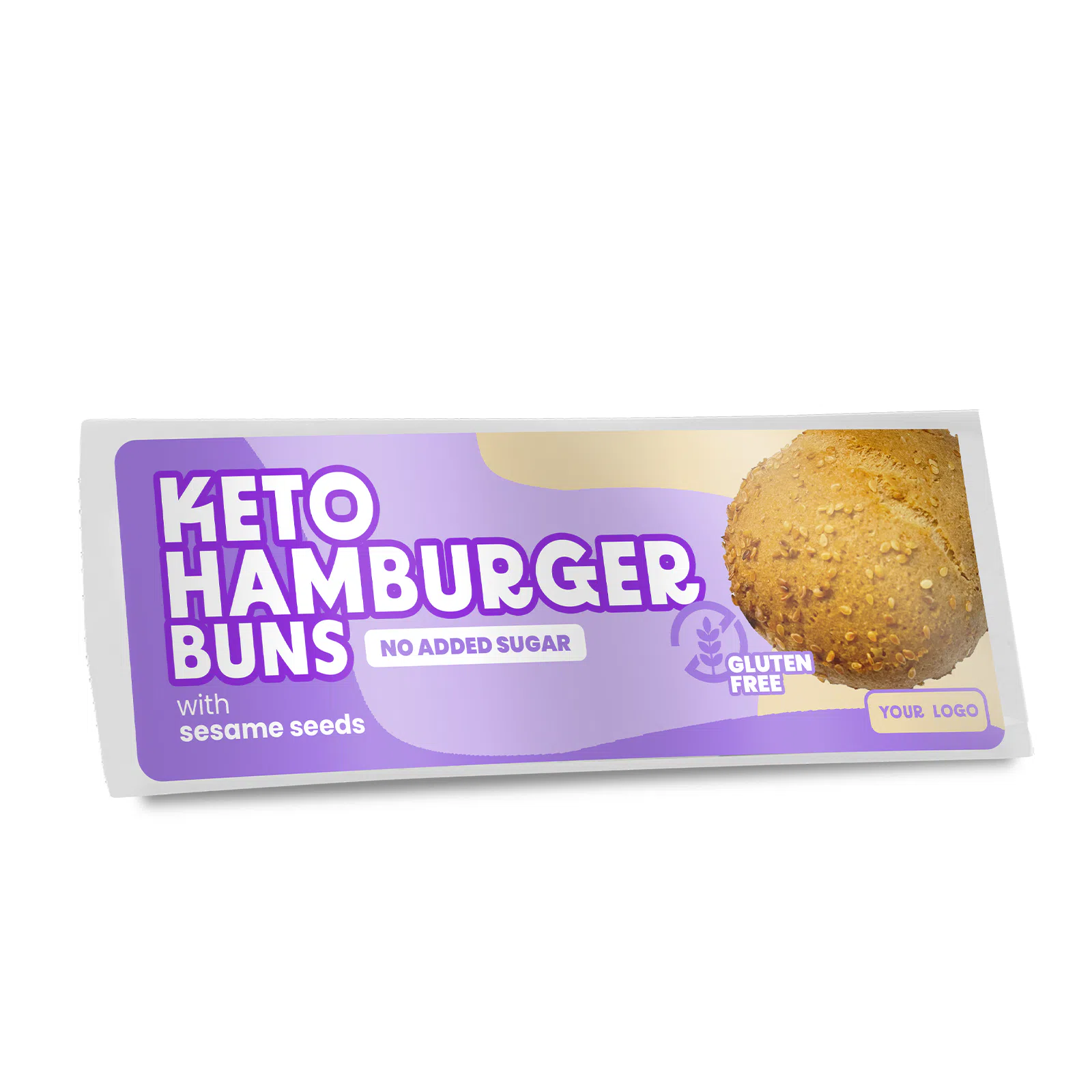 Example
packaging Bring your own
brand & logo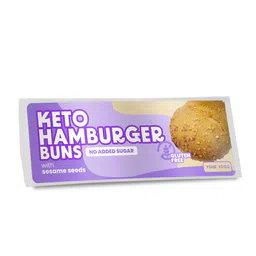 Keto hamburger buns with sesame seeds
[uKfzD1G39l0Oc9qKI3E36PaW]
Unique Selling Points
Achieve Ketosis with Ease - Our buns are specifically formulated to align with the principles of the keto diet, ensuring that you can savor the taste and benefits of your favorite bread without compromising your dietary goals.
Rich in Protein and Fiber - Packed with protein and fiber, these buns not only satisfy your taste buds but also keep you feeling full and energized. They're the ideal choice for those looking to maintain a balanced keto diet.
High-Quality Ingredients - Our buns are made from a blend of almond meal, water, and natural fibers derived from plantain, bamboo, and apple. We prioritize premium ingredients to ensure both flavor and nutrition.
Sugar and gluten-free - We take pride in offering a sugar-free and gluten-free product. By eliminating added sugars, our keto mini bun ensures you can enjoy a guilt-free treat without worrying about blood sugar spikes or unnecessary calories. The product is also fully gluten-free, which means you can enjoy the taste and benefits of our product without worrying about allergic reactions or problematic ailments.
Convenient and ready for consumption - For those with busy lifestyles, our keto mini bun provides ultimate convenience. Just open them and enjoy them in seconds, whether you're at home, on the go or at work. Say goodbye to ordinary bread and enjoy keto mini buns with sesame.
Description
Experience Keto Bliss with Our Sesame Keto Hamburger Buns!
Elevate your keto dining with our exceptional keto hamburger buns. Crafted from almond meal, water, and a blend of natural fibers sourced from plantain, bamboo, and apple, these buns redefine keto satisfaction. Enriched with protein and fiber, these gluten-free delights champion health-conscious choices. With no added sugar, they seamlessly align with your keto lifestyle, delivering guilt-free indulgence.
Embrace the subtle sesame flavor while nourishing your body. These hamburger buns are your perfect partners for upholding keto values without sacrificing taste or quality. Elevate your keto feasts with buns that truly cater to your discerning palate.
Typical Ingredients & Nutrition Value
A detailed specification sheet for each flavor selected will be emailed to you in response to your inquiry.
Request a Quote
Select:

Flavors
| | |
| --- | --- |
| | Keto hamburger buns with sesame seeds |
Looking for a different flavor?
Select:

Size Variants
| | | | |
| --- | --- | --- | --- |
| | 170 g | 2x85 g - Foil box | MOQ: 576 |
Links to related categories