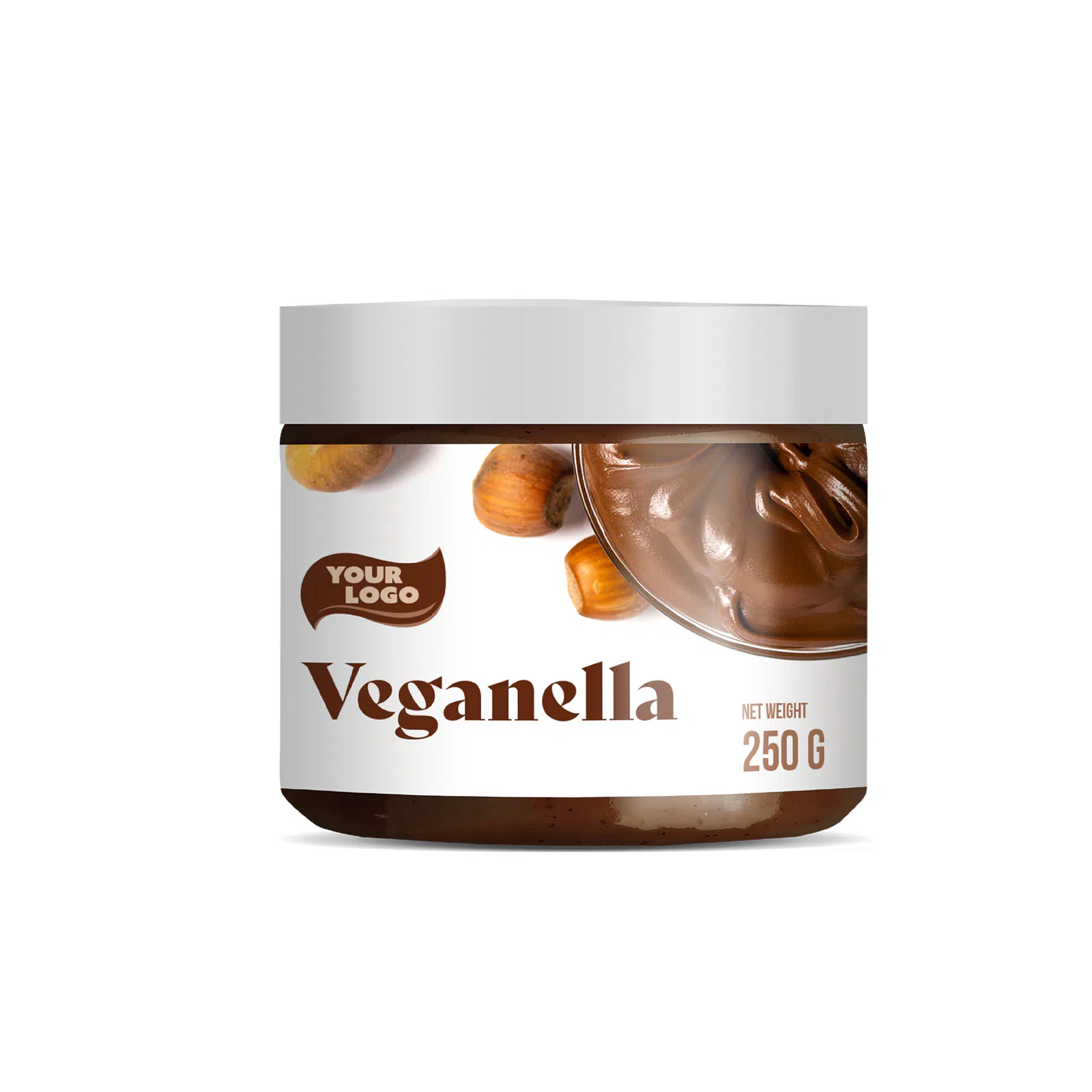 Example
packaging Bring your own
brand & logo
Veganella spread
Edit product
Unique Selling Points
No added sugar formula - We understand the importance of reducing sugar in your diet, which is why our Veganella are crafted without any added sugar, providing a healthier option for flavoring your beverages and meals.
Ideal for High-Protein Diets - As a valuable addition to a high-protein diet, Veganella Spread not only satisfies your taste buds but also provides a good source of protein to support your dietary goals.
Versatile Usage - Explore the limitless possibilities of Veganella Spread by using it to enhance sandwiches with a unique aroma and satisfying crunch, or incorporating it into pancakes, desserts, and baked goods for an added flavor boost.
Fiber-Rich - Veganella contains a beneficial portion of fiber, promoting healthy digestion and supporting the proper functioning of your digestive system.
Palm Oil-Free - Our product is proudly crafted without the use of palm oil, providing a sustainable and environmentally friendly choice for our customers.
Suitable for Vegans - Embracing the diversity of dietary choices, our product is specially crafted to cater to the needs of vegans. You can relish its flavors, knowing that it aligns perfectly with your dietary preferences.
Description
Introducing our exceptional product, Veganella, designed to tantalize your taste buds while promoting a healthy lifestyle. Crafted without added sugar, it is a perfect choice for individuals conscious of their sugar intake. This versatile spread is an excellent complement to a high-protein diet, offering not only exquisite taste but also a valuable protein source. Discover the endless possibilities with Veganella as you explore its myriad uses. Enhance your sandwiches with its unique aroma and satisfying crunch. Incorporate it into pancakes, desserts, and baked goods to elevate their flavor profile. With its delicate hazelnut essence, it effortlessly harmonizes with a variety of dishes, transforming your culinary endeavors into a pleasurable experience. In addition to its delightful taste, Veganella contains a beneficial dose of fiber that supports optimal digestive system functioning. It is also vegan-friendly, catering to the dietary requirements and preferences of those following a plant-based lifestyle. Rest assured, our product is free from palm oil, further enhancing its appeal for individuals mindful of the composition of their food products.
Typical Ingredients & Nutrition Value
A detailed specification sheet for each selected flavor will be emailed to you in response to your quote request.
Please check your email.
Request a Quote
Select:

Flavors
| | |
| --- | --- |
| | Chocolate-hazelnut |
Looking for a different flavor?
Select:

Size Variants
| | | | |
| --- | --- | --- | --- |
| | 250 g | PET jar | MOQ: 2400 |
Links to related categories