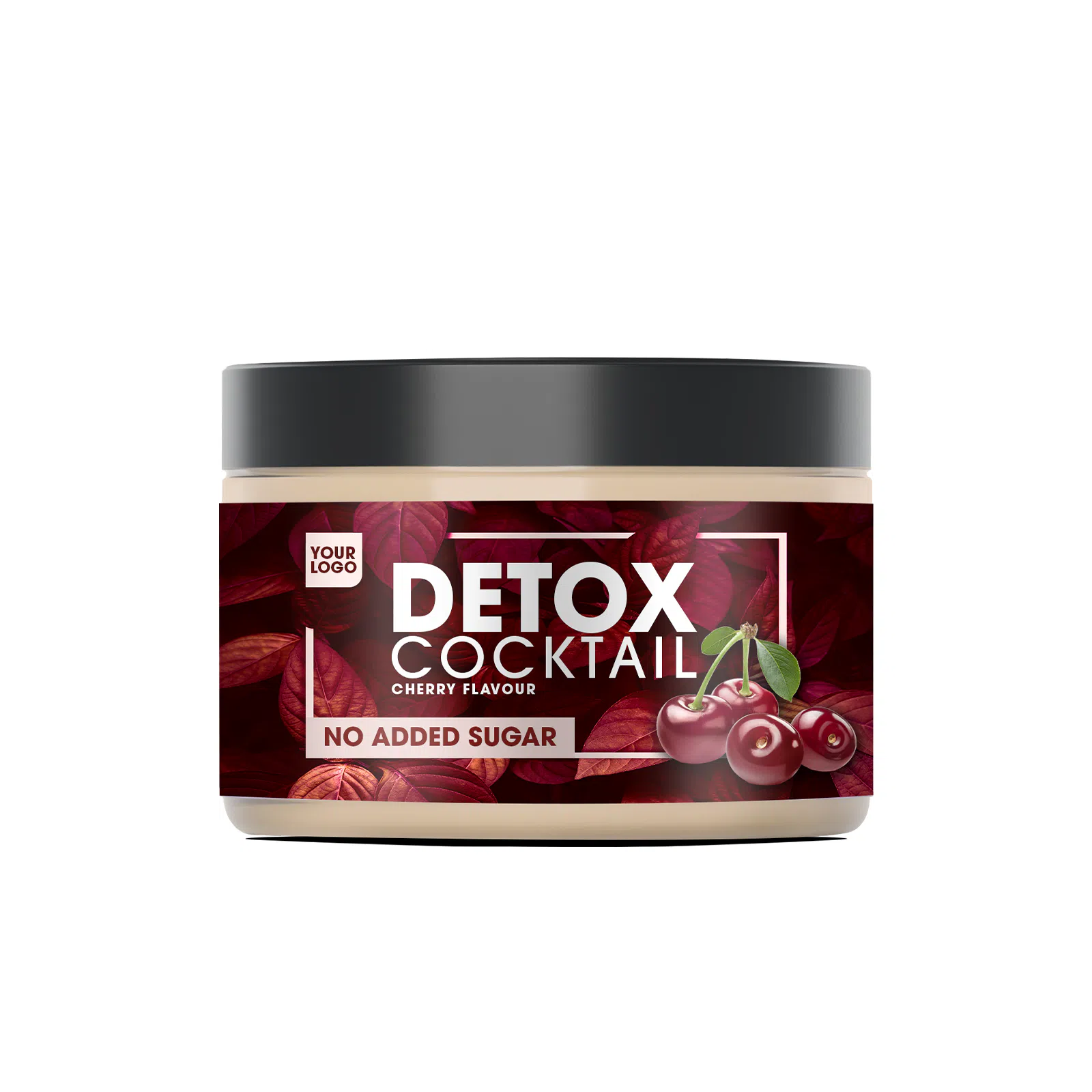 Example
packaging Bring your own
brand & logo
Detox cocktail
Edit product
Unique Selling Points
Powerful Detoxification - Detox Cocktail features a unique blend of currant fiber, apple fiber, and chokeberry fiber that effectively supports the body's natural detoxification processes, helping to eliminate toxins and promote overall well-being.
High Fiber Content - The abundant fiber content in Detox Cocktail aids digestion, promotes a healthy gut, and provides a long-lasting feeling of fullness, supporting weight management goals and overall digestive health.
Sugar-Free Solution - With no added sugar, Detox Cocktail offers a guilt-free choice for individuals on sugar-restricted diets or those seeking to reduce their sugar intake, making it suitable for diabetics and those concerned about blood sugar levels.
Vegan-Friendly - Suitable for vegans and those following a plant-based lifestyle, Detox Cocktail is free from animal-derived ingredients and aligns with ethical and environmental values.
Convenient and Easy to Use - Detox Cocktail is designed for ease and convenience. Simply mix a single serving with milk or water, and enjoy its refreshing flavors without the need for complicated preparations. It fits seamlessly into your daily routine, supporting your detoxification journey effortlessly.
Description
Detox Cocktail is a refreshing and revitalizing drink designed to support your body's natural detoxification processes. Packed with a blend of detoxifying ingredients such as dandelion root, nettle extract, and antioxidant-rich superfoods, this beverage helps to eliminate toxins and promote overall wellness. The carefully selected ingredients work synergistically to boost metabolism, improve digestion, and enhance liver function. With its delicious flavors, including cherry, raspberry, and blackberry, Detox Cocktail makes staying hydrated and healthy a delightful experience. Whether you're looking to kickstart a detox program or simply maintain a balanced lifestyle, this product is an excellent choice for rejuvenating your body and promoting optimal well-being. Incorporate Detox Cocktail into your daily routine and feel refreshed, revitalized, and ready to embrace a healthier you.
Typical Ingredients & Nutrition Value
A detailed specification sheet for each selected flavor will be emailed to you in response to your quote request.
Please check your email.
Request a Quote
Select:

Flavors
| | |
| --- | --- |
| | Blackberry |
| | Cherry |
| | Raspberry |
Looking for a different flavor?
Select:

Size Variants
| | | | |
| --- | --- | --- | --- |
| | 200 g | PET Jar | MOQ: 2304 |
| | 200 g | PET Jar | MOQ: 1152 |
Links to related categories