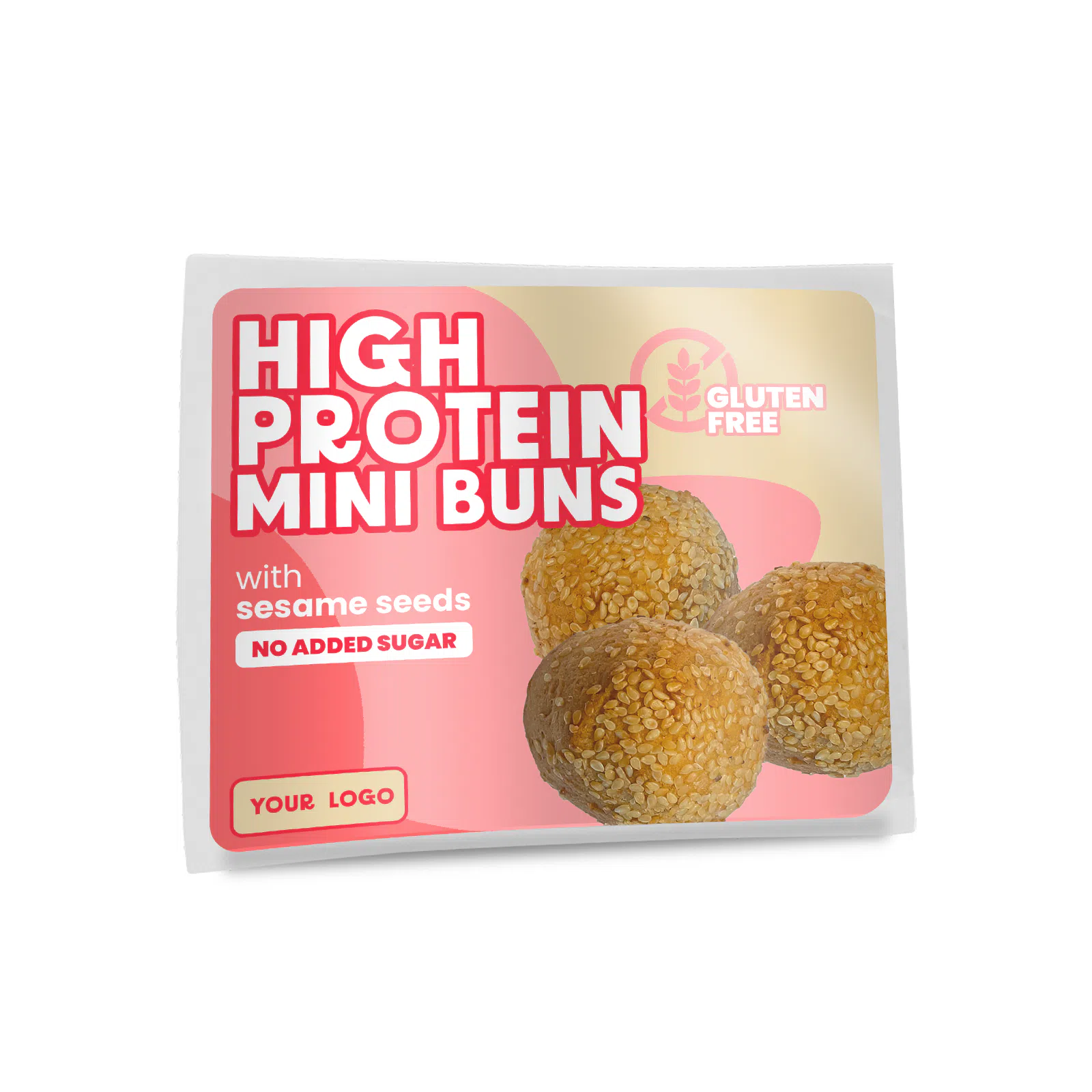 Example
packaging Bring your own
brand & logo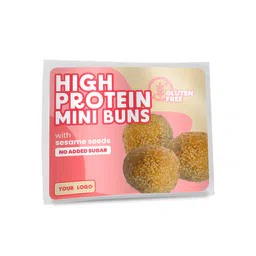 High protein mini buns with sesame seeds
[D2ptLzIkyMu3VPUrBDqYR5Ra]
Unique Selling Points
High protein - Our product is distinguished by its high protein content (17.0 g per 100 g of product), providing an exceptional option for those who value the importance of complete nutrition. Thanks to carefully selected ingredients, including protein from almonds and egg whites, this product provides a significant amount of this valuable building block. Protein is the foundation of vital energy, helping to regenerate tissues, build muscle and maintain the body's overall health.
High fibre - This product contains a variety of fiber sources, including fiber from plantain, bamboo and apples. The aforementioned fiber sources are carefully selected to provide your body with comprehensive benefits. Fiber is known for its ability to improve intestinal function by regulating digestion and facilitating the excretion process. It's a natural support for a healthy digestive system, which translates into overall vitality and comfort.
Gluten-free - The product is fully gluten-free, which means you can enjoy the taste and benefits of our product without worrying about allergic reactions or problematic ailments. For those who must strictly adhere to a gluten-free diet, our product is a sure source of exceptional taste and nutritional value.
Free from Added Sugars - We take pride in offering a sugar-free product. By eliminating added sugars, our high-protein mini buns ensures you can enjoy a guilt-free treat without worrying about blood sugar spikes or unnecessary calories. It's a wholesome choice that supports a balanced diet and healthy lifestyle
Convenient and ready for consumption - For those with busy lifestyles, our high-protein mini buns provide ultimate convenience. Just open them and enjoy them in seconds, whether you're at home, on the go or at work. Say goodbye to ordinary bread and enjoy high-protein mini buns.
Description
Delight in the ultimate indulgence with our high-protein mini buns with sesame - a baked wonder awaits! Welcome to the world of perfect baked goods with our high-protein mini buns with sesame. Designed to stimulate your taste buds and nourish your body at the same time, these 100% natural buns are like a beacon among baked goods. Discover its remarkable qualities: a high amount of fiber, impressive protein content and no palm oil in the composition. These mini buns were created without added sugar, allowing you to easily control your daily calorie intake. With every crunchy bite, enjoy guilt-free satisfaction while maintaining a healthy lifestyle. Whether you share them with friends or savor them solo, our mini buns are the perfect choice. In addition to their unique taste and texture, they make a nutritious addition to your breakfast, dinner, or mid-day snack. Meet a snack that combines great ingredients, unparalleled taste and a firm commitment to well-being. Baked goods at a higher level - where health and taste come together.
Typical Ingredients & Nutrition Value
A detailed specification sheet for each flavor selected will be emailed to you in response to your inquiry.
Request a Quote
Select:

Flavors
| | |
| --- | --- |
| | High protein mini buns with sesame seeds |
Looking for a different flavor?
Select:

Size Variants
| | | | |
| --- | --- | --- | --- |
| | 120 g | 3x40 g - Foil box | MOQ: 720 |
Links to related categories