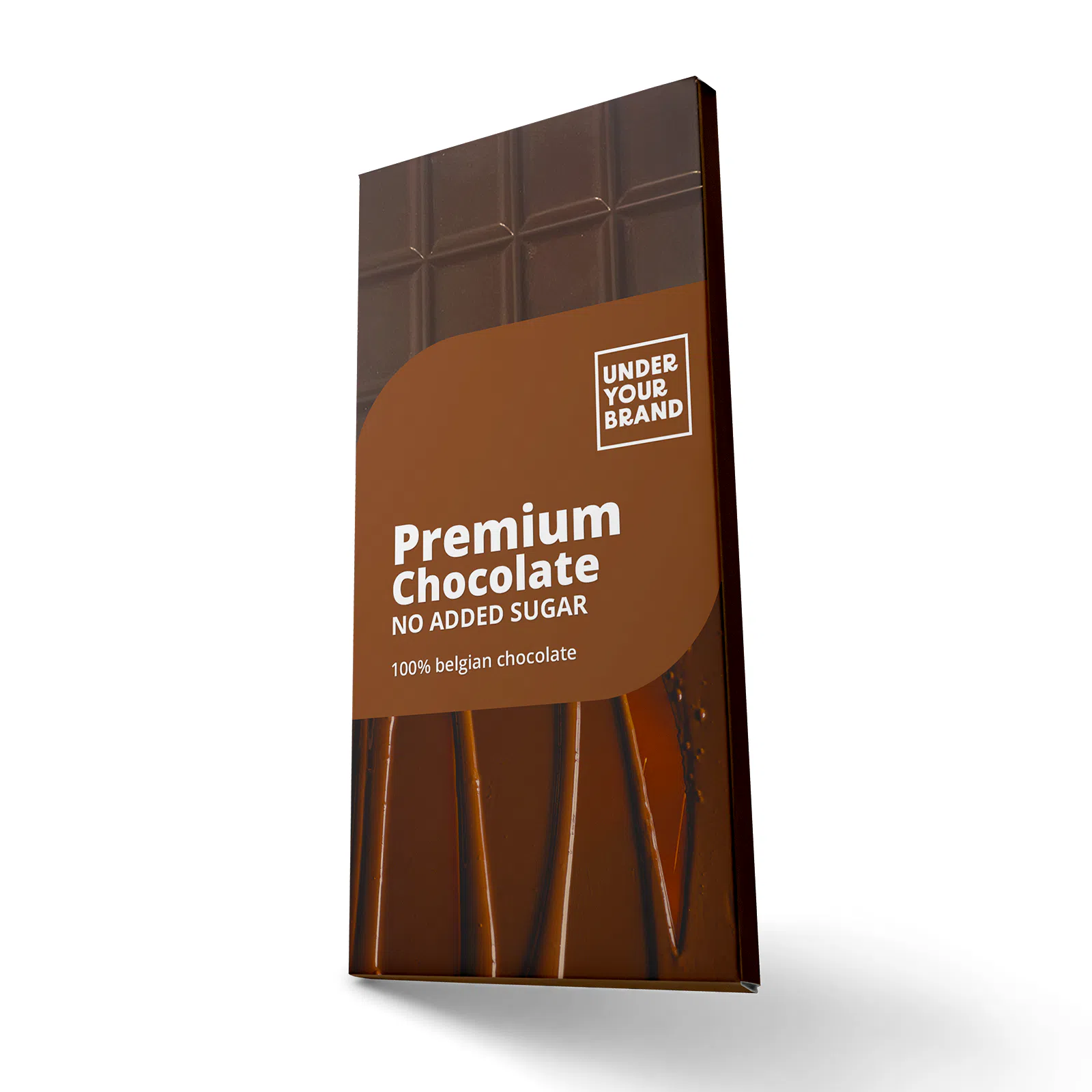 Example
packaging Bring your own
brand & logo
No added sugar chocolate
Edit product
Unique Selling Points
No added sugar formula - We understand the importance of reducing sugar in your diet, which is why our chocolates are crafted without any added sugar, providing a healthier option for flavoring your beverages and meals.
Ideal meal accompaniment - Our product is the perfect addition to your favourite dessert. Whether it's oatmeal, cake, or shake, our chocolate will add a unique flavour and aroma to it. Melt, crumble or just eat it, it'll always be delicious and full of flavour.
Hand-made product - What sets our product apart is its exclusive handcrafted process. Through this meticulous approach, we ensure unparalleled quality and a one-of-a-kind flavor profile. The handmade nature of our product guarantees that every batch is crafted with utmost care and attention to detail.
Delicious Variants - Explore our selection of three distinct and exceptional flavors: rich and intense chocolate, creamy milk chocolate, or smooth white chocolate. Each variant has been meticulously crafted to offer a unique and unforgettable taste experience.
Palm Oil-Free - Our product is proudly crafted without the use of palm oil, providing a sustainable and environmentally friendly choice for our customers.
Description
Experience the exceptional flavor of our sugar-free and palm oil-free chocolate, made from 100% natural ingredients. Our meticulously crafted recipes guarantee not only delicious and original taste but also the highest standards of safety and quality. Indulge in the pleasure of milk, dark, or white chocolate, tailored to your personal preferences. Each piece of our chocolate is a delightful fusion of natural ingredients and exquisite taste. Whether you incorporate it into desserts, yogurt, or shakes, or savor it straight from the box, our chocolate promises a unique and guilt-free indulgence. Explore the realm of sweet delights without compromising on health with our sugar-free and palm oil-free chocolate.
Typical Ingredients & Nutrition Value
A detailed specification sheet for each selected flavor will be emailed to you in response to your quote request.
Please check your email.
Request a Quote
Select:

Flavors
| | |
| --- | --- |
| | Dark chocolate |
| | Milk chocolate |
| | White chocolate |
Looking for a different flavor?
Select:

Size Variants
| | | | |
| --- | --- | --- | --- |
| | 50 g | Fully printed box | MOQ: 1000 |
Links to related categories