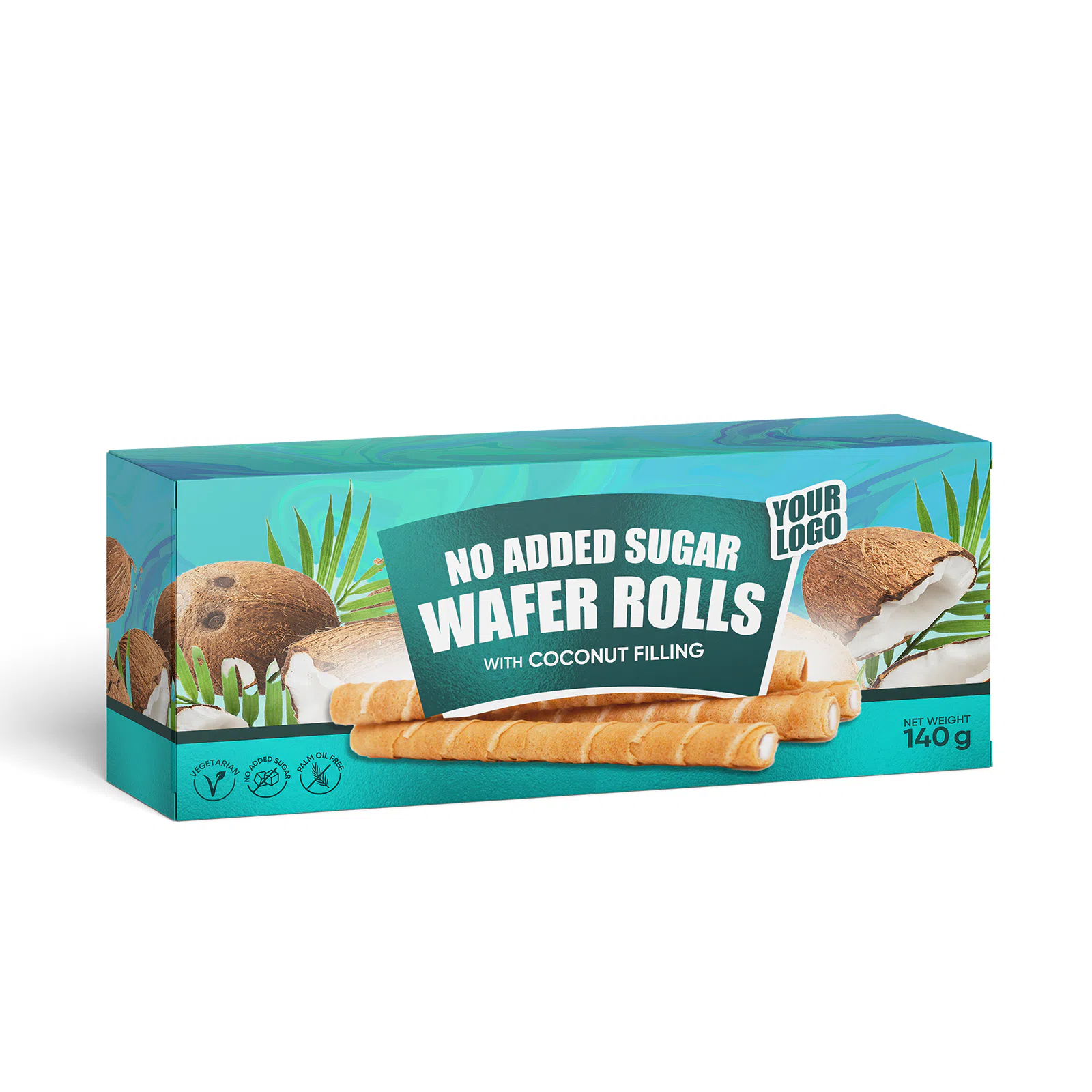 Example
packaging Bring your own
brand & logo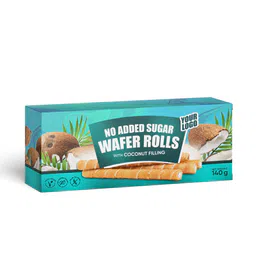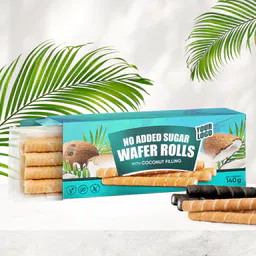 Wafer rolls
[fkV8OjXpuZ5XwYxB0Izp5sfZ]
Unique Selling Points
No added sugar delight - Our wafer rolls are completely free from added sugars, allowing you to enjoy their delectable taste without the guilt or worry of blood sugar spikes. We believe in providing a sweet treat that aligns with your health-conscious lifestyle.
No Palm Oil - Take pride in using sustainable practices and ensuring the highest quality ingredients. Our wafer rolls are crafted without the use of palm oil, promoting both your well-being and environmental responsibility. Enjoy the goodness of our wafer rolls with peace of mind.
Vegetarian-Friendly - Our wafer rolls are suitable for vegetarians, making them a versatile choice for individuals with diverse dietary preferences. They provide a delightful option for those seeking a sweet treat that aligns with their vegetarian lifestyle.
Delicate Crunch and Creamy Filling - Experience the perfect combination of textures with our wafer rolls. The delicate, crispy wafer exterior provides a satisfying crunch, while the soft and creamy filling adds a luxurious touch. Each bite delivers a delightful contrast that will keep you coming back for more.
Versatile Snacking - Our wafer rolls are the perfect companion for various occasions. Whether enjoyed on their own, dipped into coffee or tea, or shared with friends and family, they bring a touch of elegance and satisfaction to any snacking experience.
Description
Indulge in the irresistible delight of our unique wafer rolls with sugar-free cream, a gourmet's sweet paradise. For a delightful start to your day, pair our wafer rolls with your morning coffee. The interplay of aromatic flavors and the crispness of the wafer roll create a moment of sheer bliss. Once you experience the exquisite taste and quality of our wafer rolls, you'll understand why they are a choice you won't regret. Treat yourself to the sublime pleasure of our wafer rolls with sugar-free cream. Whether enjoyed as a solo delight, a travel-friendly snack, or a delightful addition to your daily routine, our wafer rolls deliver an unrivaled experience. Immerse yourself in the captivating blend of crunch, creaminess, and guilt-free indulgence. Elevate your snacking moments with our exceptional wafer rolls and unlock a realm of pure culinary bliss. These wafer rolls are not only a delectable treat but also a convenient companion for your travels or busy workdays. Our wafer rolls are also suitable for vegetarians, making them a delightful choice for a wide range of dietary preferences. With an array of enticing flavors available, you're sure to find your perfect match. Explore our selection and embark on a journey of taste and satisfaction.
Typical Ingredients & Nutrition Value
A detailed specification sheet for each flavor selected will be emailed to you in response to your inquiry.
Request a Quote
Select:

Flavors
| | |
| --- | --- |
| | Coconut |
| | Hazelnut-cocoa |
| | Salted caramel |
| | White chocolate in dark wafer |
Looking for a different flavor?
Select:

Size Variants
| | | | |
| --- | --- | --- | --- |
| | 140 g | Fully printed box | MOQ: 5040 |
Links to related categories