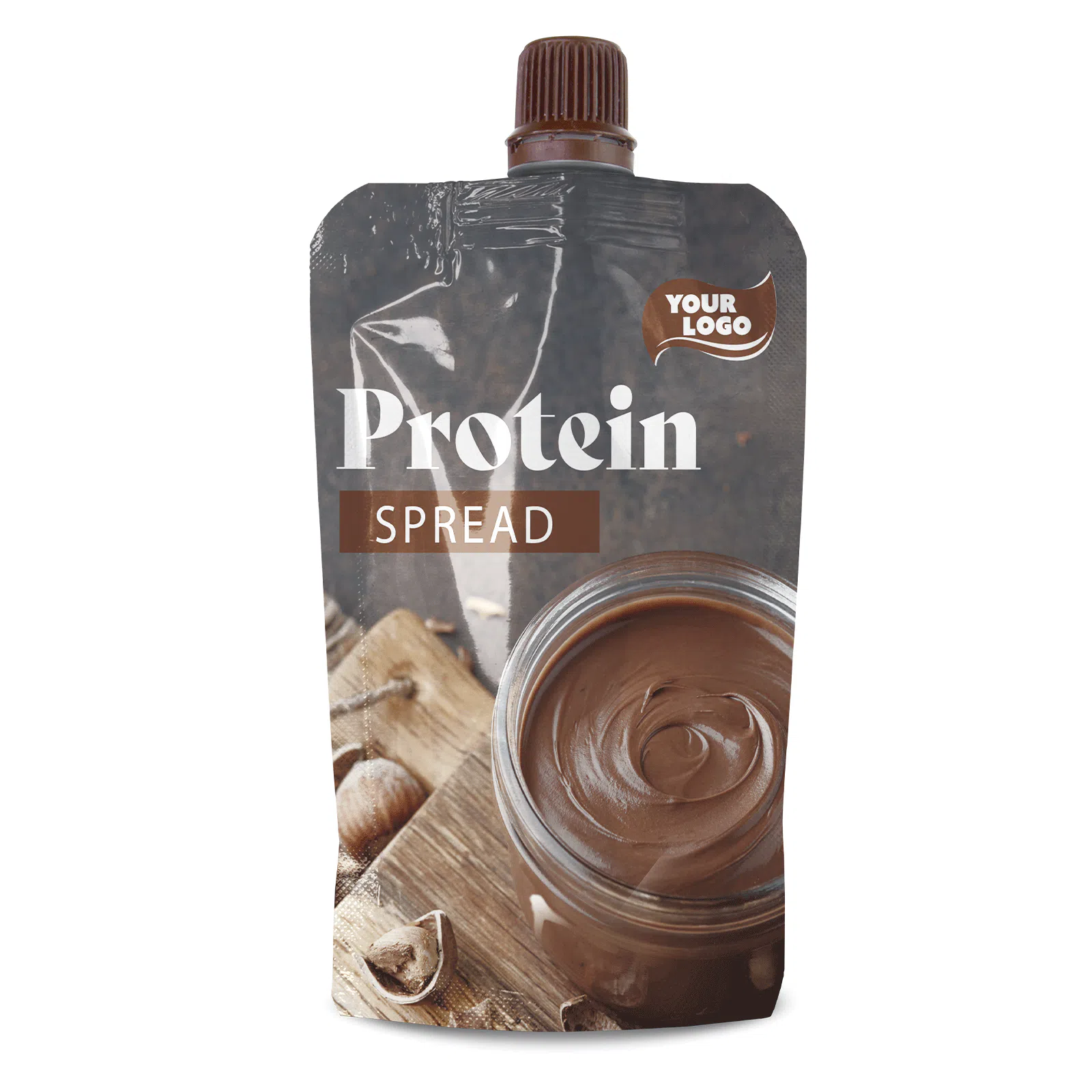 Example
packaging Bring your own
brand & logo
Protein spread in pouch
Edit product
Unique Selling Points
Easy Squeeze Design - Our Protein Spreads feature an innovative easy squeeze pouch design, allowing you to effortlessly dispense the desired amount of spread without any mess or hassle. No need for utensils or spreading knives - just squeeze and enjoy!
High Protein Content - Our Protein Spreads are packed with a minimum of 24g of protein per 100g serving, providing a significant boost to your protein intake. This makes them an excellent choice for those aiming to support muscle growth and recovery.
No Added Sugar Indulgence - Enjoy the luscious flavors of white chocolate, salted caramel, toffee, and chocolate-hazelnut without the worry of added sugars.
Health-Conscious Snacking - With their sugar-free formulation, our Protein Spreads are a healthier alternative to traditional spreads, making them suitable for individuals following sugar-restricted diets or those looking to reduce their sugar intake. They offer a delicious way to indulge while maintaining a balanced lifestyle.
Palm Oil-Free and Vegetarian-Friendly - We care about your well-being and the environment. Our Protein Spreads are free from palm oil, a feature that appeals to conscious consumers who prefer to avoid this ingredient. Additionally, they are suitable for vegetarians, catering to diverse dietary preferences.
Description
Our protein spreads are recommended for physically active people whose diets can sometimes be monotonous, and thanks that spreads make meals varied and tasty. Take a culinary journey and try our delicious versions: white chocolate, salty caramel, fudge and chocolate-hazelnut.You can enjoy their unique taste while following a healthy protein-rich diet. Thanks to our Protein Spreads you will not only get a unique taste, but also an excellent source of protein. It's an ideal solution for people who want to take care of a high-protein diet. Our Protein Spreads are suitable for vegetarians and contain no palm oil. You can enjoy the taste without worries, knowing our care for your values. These pouches are designed with practicality in mind, allowing you to easily squeeze out the desired amount of syrup with precision. No more struggling with messy spills or sticky bottles! See for yourself how our Protein Spreads can transform your snacks.
Typical Ingredients & Nutrition Value
A detailed specification sheet for each selected flavor will be emailed to you in response to your quote request.
Please check your email.
Request a Quote
Select:

Flavors
| | |
| --- | --- |
| | Crunchy chocolate-hazelnut |
| | Fudge |
| | Milk chocolate-hazelnut |
| | Salted caramel |
| | White chocolate |
Looking for a different flavor?
Select:

Size Variants
| | | | |
| --- | --- | --- | --- |
| | 40 g | Fully printed pouch with spout | MOQ: 12000 |
| | 50 g | Fully printed pouch with spout | MOQ: 12000 |
Links to related categories