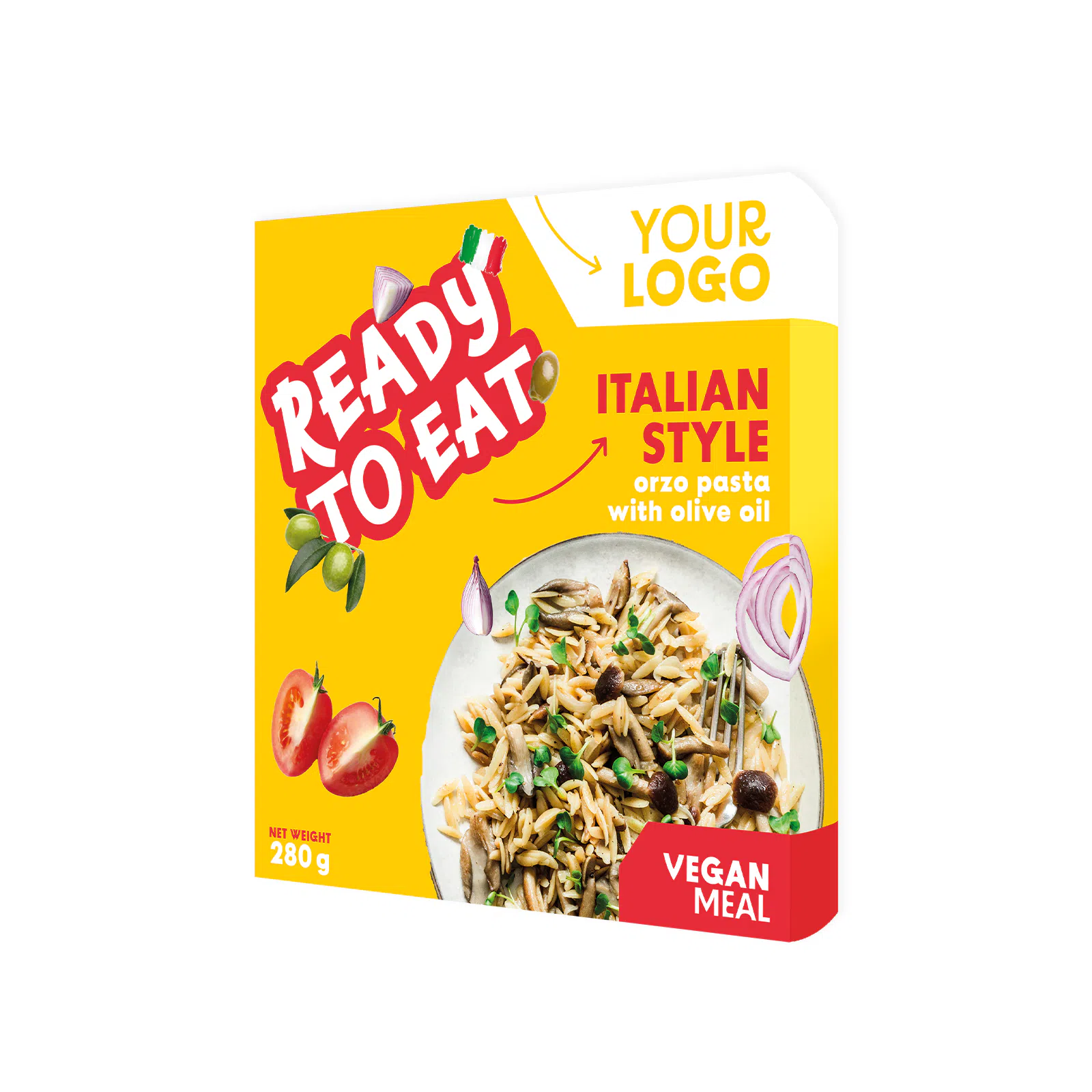 Example
packaging Bring your own
brand & logo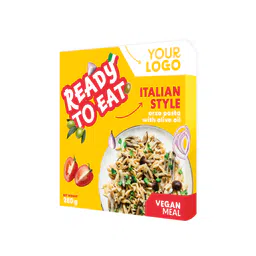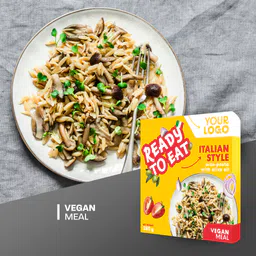 Vegan ready meal
[SzI8fH5Lo52t6u02zmRR6auT]
Unique Selling Points
Convenience - Our ready-made vegan meals offer ultimate convenience for those with busy lifestyles, whether you lack time to cook or need a quick meal while on the go. Simply heat and enjoy within minutes.
Store out of refrigerator No Refrigeration Needed - Our vegan meals are designed to be shelf-stable, eliminating the need for refrigeration. This makes them perfect for individuals or businesses without access to refrigeration facilities. Whether you're planning a camping trip, stocking up for emergencies, or running a store without a refrigerator, our vegan meals provide a convenient solution. You can confidently store our meals at room temperature, knowing that they will remain fresh and delicious for an extended period, allowing you to enjoy a tasty and nutritious vegan meal anytime, anywhere.
Long Shelf Life - Our meals stay fresh and maintain their delicious flavor for an impressive duration of up to 17 months from the production date. You can stock up and have them readily available whenever you need a nutritious and tasty meal.
Suitable for vegan and vegetarians - Our meals are purely vegan, made entirely from plant-based ingredients. We understand the importance of adhering to a vegan lifestyle, and our products are created with a focus on providing delicious and satisfying meals without the use of any animal-derived ingredients. You can enjoy our vegan meals with the confidence that they are crafted to meet the specific dietary requirements of vegans, ensuring a guilt-free and cruelty-free dining experience.
Natural Ingredients - We prioritize using the best and natural ingredients in our meals. They are free from preservatives, artificial flavors, and colors, ensuring that you enjoy a wholesome and healthy dining experience.
Description
Our ready-made vegan meals are the perfect product for those who don't have time to cook or want a convenient meal while traveling or at work. These meals are fresh and maintain their flavor for a long time - up to 17 months from the production date! Importantly, they have never been frozen. This was made possible because we used the finest and natural ingredients, without preservatives, artificial flavors, or colors. Regardless of your taste preferences, we have something to offer - from mild to spicy, traditional or oriental, vegan or meat options, high-protein or low-fat choices. Best of all, our dishes are ready to heat and consume within minutes! If you are looking for a private label product, All Natural Ready Meals is a great option to add to your portfolio. See for yourself that our meals are not only delicious but also of high quality and innovative - all in one!
Typical Ingredients & Nutrition Value
A detailed specification sheet for each flavor selected will be emailed to you in response to your inquiry.
Request a Quote
Select:

Flavors
| | |
| --- | --- |
| | Continental |
| | Italian |
| | Oriental |
Looking for a different flavor?
Select:

Size Variants
| | | | |
| --- | --- | --- | --- |
| | 280 g | Tray with paper sleeve | MOQ: 18000 |
Links to related categories