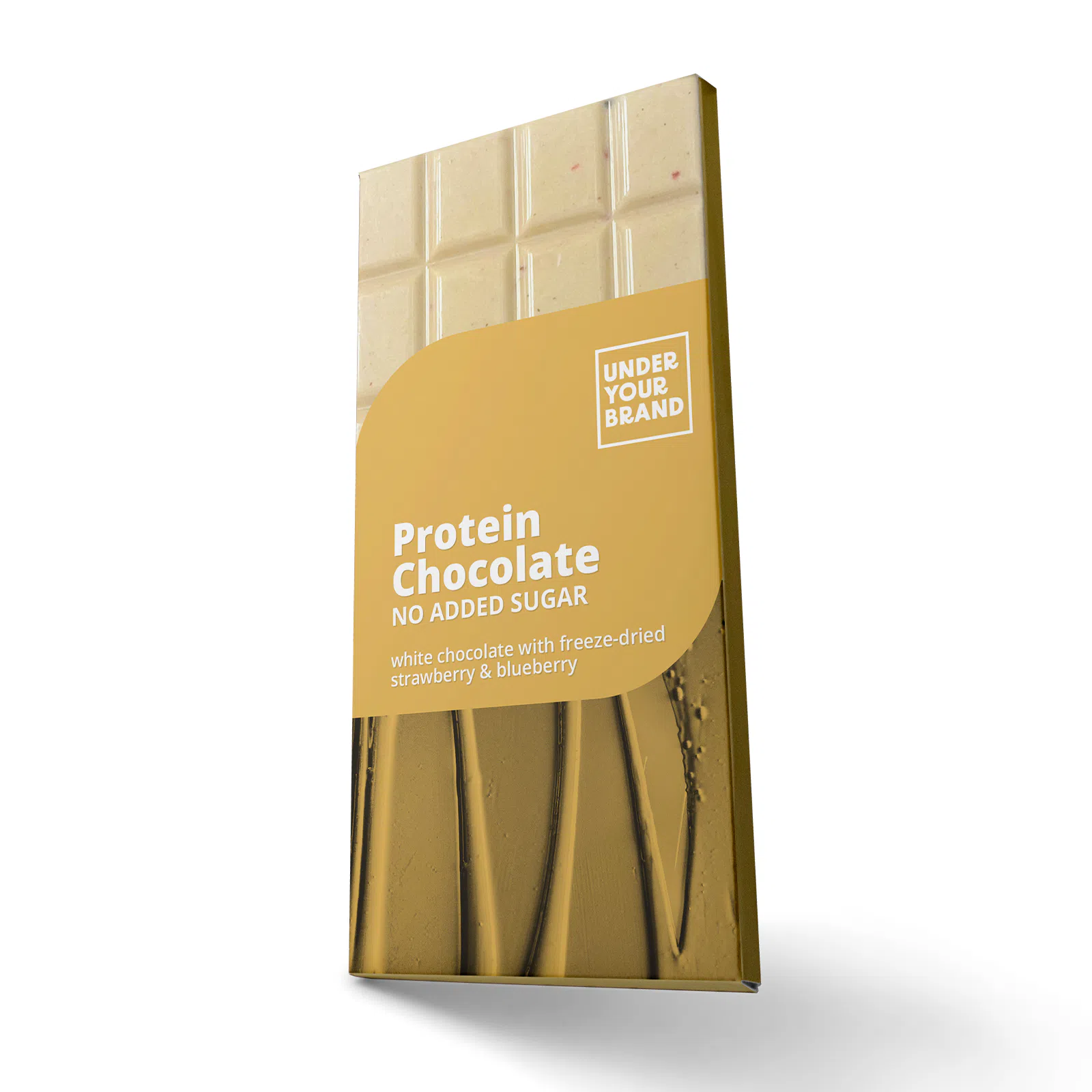 Example
packaging Bring your own
brand & logo
Protein white chocolate
Edit product
Unique Selling Points
Powerful protein boost - Each delectable piece is packed with a generous serving of pure protein - 20 g per 100 grams of products. This means you can relish the rich flavors of chocolate while providing your body with the essential nutrients it needs to recover, build muscle, and maintain overall wellness.
Irresistible Taste, No Added Sugar - Our chocolate delivers a decadent taste experience without the need for added sugars. We've perfected a recipe that maintains the luscious sweetness you crave while ensuring you can enjoy it without any guilt.
Versatile Snacking Option - Whether you're looking for a post-workout treat, a satiating snack between meals, or a guilt-free dessert, our High-Protein chocolates are a versatile option that caters to various occasions. It's a delightful way to satisfy your cravings while keeping your nutrition goals on track.
Delicious Variants - Explore our selection of four different and unique flavors of white chocolates. Each variant has been carefully formulated to provide a unique and unforgettable taste experience.
Palm Oil-Free - Our product is proudly crafted without the use of palm oil, providing a sustainable and environmentally friendly choice for our customers.
Description
Enjoy the Unique Taste of Protein Chocolate - White Chocolate with Additives!
Our Protein Chocolate is a real treat for white chocolate lovers who want an extraordinary taste experience. Now available with additives such as coconut shavings, freeze-dried raspberry, peach, strawberry with blueberry, our chocolate offers exceptional taste and excellent nutritional value.
The main features of our Protein Chocolate are:
High protein content: Each 100 grams of our chocolate provides an impressive 20 grams of protein. It is an excellent source of this valuable ingredient, supporting muscle development and overall health.
No Added Sugar: Our chocolate contains no added sugar, allowing you to enjoy its taste without overloading your body with sugary ingredients.
No palm oil: We are proud of the fact that our product does not contain palm oil, which is important for environmental concerns.
Protein Chocolate is the perfect choice for those who want to savor the taste of white chocolate while enjoying the benefits of protein. Regardless of your dietary goals, our chocolate delivers flavorful pleasure without adding unnecessary sugar or palm oil.
Available with delicious toppings, our Protein Chocolate is the perfect option for those who want to combine taste with nutritional value. Try it today and experience the exceptional quality, taste and nutritional benefits.
Typical Ingredients & Nutrition Value
A detailed specification sheet for each selected flavor will be emailed to you in response to your quote request.
Please check your email.
Request a Quote
Select:

Flavors
| | |
| --- | --- |
| | White chocolate vanilla flavour with freeze-dried raspberry |
| | White chocolate with coconut shreds |
| | White chocolate with freeze-dried peach |
| | White chocolate with freeze-dried strawberry & blueberry |
Looking for a different flavor?
Select:

Size Variants
| | | | |
| --- | --- | --- | --- |
| | 100 g | Fully printed box | MOQ: 7200 |
| | 100 g | Fully printed box | MOQ: 2400 |
| | 100 g | Fully printed box | MOQ: 1200 |
Links to related categories